Waterproof Flooring in Richmond, VA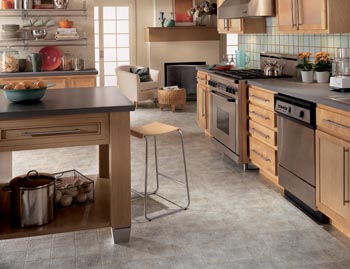 Water damage is no longer a concern with our innovative flooring options. Get the look you want by coming to The Floor Trader of Richmond for waterproof flooring in Richmond, Virginia. These types of floors come in many styles as well, letting you bring the beauty of wood, carpet, or vinyl into any room, including bathrooms and kitchens. Whether you want it in your living room or in a room that is prone to moisture and spills, water-resistant vinyl flooring or carpet is the ideal choice. These products are designed for active living and moisture-prone environments due to their advanced manufacturing techniques.
It's Time for Stylish Waterproof Vinyl
You want a floor that adds fabulous flair to your room, but you also need it to resist water, spills, and other messes. We carry and install luxury vinyl flooring that is waterproof. It's perfect for kitchens, bathrooms, basements, cafeterias, mudrooms, and any other room that has moisture. Lay aside your old ideas of vinyl floors and come see our vinyl floors that are available in all varieties, colors, and textures.
You don't have to settle for a bland-looking floor, there are endless options to choose from at our showroom. In fact, they are fabricated to look like hardwood flooring as well as porcelain, ceramic, or natural stone floors. Stop by our store for assistance where our friendly and experienced associates will help you choose a product that suits your needs and style. We also perform water-resistant flooring installation that includes special guarantees.
Why a Water Resistant Vinyl Floor Is a Great Choice
Even though we carry so many excellent flooring products, not all of them go well in kitchens and bathrooms. This is because wood will warp, and laminate will expand in moisture-prone rooms. Even natural stone, while it is not susceptible to water damage, can allow fluids to soak through if not sealed properly and dampen the subfloor beneath it. For a stunning and durable choice, consider vinyl waterproof floors that resist moisture.
Because these products have waterproof cores, they do not degrade, rot, or expand. They also prevent liquid from seeping onto the subfloor. In addition, they are easy to maintain. Simply sweep and mop your new floor whenever it is dirty. Waterproof laminate flooring holds up well under heavy foot traffic and is perfect for busy households.
Yes, There Is Such a Thing as Waterproof Carpet
Protect your carpet from spills, pet accidents, and moisture with waterproof carpet. Not only are these carpets stain resistant, but they also do not sustain water damage. They prevent water from penetrating the floor beneath. Instead of worrying about your carpet, let your new carpet ease your concerns. Our state-of-the-art carpets offer a level of protection that ordinary carpets simply cannot.
---
Contact us if you have questions about our advanced waterproof flooring products. We proudly serve customers throughout Richmond, VA, and the surrounding areas.