Tile Flooring in Richmond, VA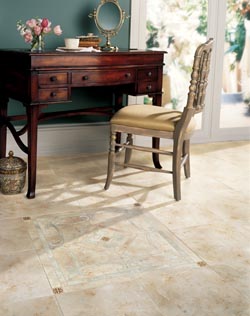 Are you looking for a way to enhance the appeal and value of your home? Try our tile flooring in Richmond, VA, for the ultimate selection of diverse colors, patterns, and styles. We work with you to determine if tile is the right choice for you and which materials might best suit your needs and personal tastes. With a huge selection of slate, porcelain, and ceramic tile, we're certain you can find whatever type of flooring you want.
Offering Easy Tile Flooring Installation
It's our goal to make your experience as hassle-free and fun as possible. That's why we walk you through every step of the process. It starts with selection, where our sales staff chooses samples based on your preferences until you find something you love. Our designers can show you what your choice will look like, which gives you even more confidence in your selection.
Once you know which specific product you want, we provide you with a trusted list of tile flooring installation teams from our Preferred Installer list. The installation process can be strenuous for an inexperienced installation team because every tile has to match up perfectly. However, with expert team's years of training and experience, they know which techniques to use so the results are perfect.
Choose Ceramic Tile for More Than Just Floors
Many people choose ceramic tile for their floors because of its durability and ease of maintenance. But with these benefits plus the sheer amount of variety available, you can use ceramic for just about any surface you want. It is great for shower walls and backsplashes—even for kitchen countertops. Our tile flooring specialists can help you choose one color or combine different tiles to make a pattern that's unique to your home. And no matter what surface you put it on, ceramic tile will help repel water, resist stains, and make your home look cleaner and more vibrant than ever.
Get a Low-Maintenance Floor with Porcelain Tile
When it comes to flooring, we understand that most homeowners want something that requires as little cleaning and other maintenance as possible. With porcelain tile, that wish can be granted in your home. Because of the sealant on this type of flooring, it doesn't take much effort to clean. Water and other liquids rest on top of the surface instead of seeping in and staining, so your tile flooring will stay looking as good as new for decades.
In addition to being resistant to stains and moisture, porcelain is also resistant to fire. With this type of tile installed throughout the home, you can help reduce or slow the transfer of flames from one room to the next. In the event of a fire, porcelain tile can save a lot of damages to both your home and your family.
Slate Tile Options with Immense Durability
When you come to our locally owned store, it might be hard not to be overwhelmed by our large inventor of tile flooring just waiting to be installed in your home. But our professionals are here to guide you to your dream floors—even if you're not sure exactly what those are yet. If you love natural tones, slate tile might be for you. Made from all-natural materials, this type of tile flooring isn't only beautiful, but also sustainable and extremely durable. Use it outdoors, in your foyer, bathroom, or anywhere else in your home that experiences heavy foot traffic.
---
Contact us today to learn more about our tile flooring options. We proudly serve customers in the greater Richmond and Midlothian, Virginia, areas.