Luxury Vinyl Flooring in Richmond, VA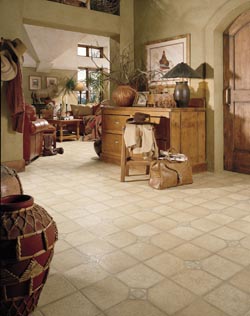 Check out our stylish and durable collection of luxury vinyl flooring (LVF). Unlike the vinyl flooring of the past, this flooring is made using state-of-the-art technology, making it stronger and more versatile that ever before. You can choose from a broad range of options that replicate virtually any hard-surfaced flooring material, including wood, stone, and tile. And with some of the most trusted name brands available, you can count on us for high-quality products.
When you need luxury vinyl tile at a price that fits within your budget, there's no better place to go. Because we have a friendly outlet environment without all the unnecessary bells and whistles of other flooring retail stores, we are able to save on our operating costs, and pass those savings on to you. Matched with affordable pricing on services like the luxury vinyl flooring installation from our Preferred Installer list, you can transform the look of your entire home without spending your life savings.
Recommended Crew for Luxury Vinyl Flooring Installation
If you're looking for flooring that lasts, the installation process is just as important as the quality of the material itself. That's why our store offers you highly skilled professionals from our Preferred Installer list who have years of experience installing every type of flooring we sell. Whether it's luxury vinyl plank, carpet, or hardwood, you can count on us for a flawless finish. These experienced installers have spent much time perfecting their methods and continuously work to perfect them further. Combined with their attention to detail and highly efficient processes, you'll have a smooth, even, beautiful surface in no time.
Experience the Benefits of Luxury Vinyl Tile
Why choose luxury vinyl flooring for your home? If you're like so many other homeowners, you want every room in your house to look perfect—and you want to get your flooring for a price that matches your budget. Fortunately, LVF is extremely cost-effective without sacrificing its incredible quality.
Luxury vinyl tile is ideal for high-moisture areas like bathrooms and kitchens because it is made with multiple wear layers that not only protect it from heavy foot traffic, but also against spills and stains. Its non-permeable surface means liquids just sit on top of the surface, waiting to be wiped away. This not only makes cleaning and maintenance very easy, but also makes your floors more resistant to stains.
Luxury Vinyl Plank for a Hardwood Look Throughout the Home
Extend the look and feel of hardwood flooring throughout your house, including areas like the kitchen and bathroom. Many homeowners would love solid wood floors in every room of the house for a more cohesive décor. However, hardwood tends to warp and hold bacteria when it is in rooms with too much moisture. That's where our luxury vinyl plank floors come in. With a wide range of colors and grain patterns to choose from, you can match your vinyl plank to the hardwood in the rest of the house, making for a seamless design.
---
Contact us today to learn more about our luxury vinyl flooring options. We proudly serve customers in the greater Richmond and Midlothian, Virginia, areas.