Exceptional, Affordable Flooring in Richmond, VA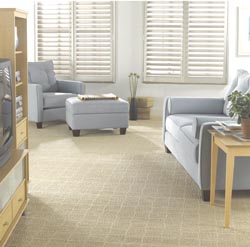 You shouldn't have to shatter your finances to get the level of quality you want from your flooring in Richmond, VA. That's the principle that drives The Floor Trader of Richmond to deliver premium products for approachable prices. Our mission is to make luxury surfaces more accessible for local families. Therefore, you can find a massive inventory of top-grade products when you shop our selection.
Stop by today and see some of our best options for:
Carpet
Hardwood
Laminate
Tile
Waterproof Plank
You're sure to find a product you'll love with a price tag you'll enjoy when you take advantage of our exclusive deals. The best part is that there's no need to compromise on the level of comfort, beauty, and durability you get when you choose us. We carry the most trusted flooring brands and have all the expertise you need to utilize them under one roof.
A Low-Cost Look that Lasts
We're all about savings, and one of the ways you can get the most from your floors is to avoid major damage and replacement with effective maintenance. At our showroom, you'll find highly durable products that consumers have trusted for years, but we also supply the guidance of our in-store professionals.
An incredible value all on its own, our deep well of professional knowledge about all varieties of home flooring allows us to offer unparalleled insight into the best ways to care for your new purchases. This information grants you two major advantages that you may not get elsewhere:
Long-Term Value — First and foremost, knowing how to maintain your floors means that they'll look and perform better over time. That means more value on top of our already-amazing prices.
Pre-Purchase Help — Because we know what it takes to care for all of our offered products, we can make sure you know what you're getting into before you buy. Whether you want to minimize the time you spend on upkeep or enjoy the freedom to refinish later in life, we can help.
Our Flooring Installation Connection
The service you get at The Floor Trader of Richmond doesn't end when you leave our store. We can set you up with preferred installers who know how to give your new floors the strong start they need to provide a stunning surface for as long as you maintain them. For absolute confidence, incomparable pricing, and service that shines even beyond our doors, stop by today and get your project started.
---
Contact us today to discover a better way to get the floors you desire. We proudly serve Richmond and Midlothian, Virginia, as well as the surrounding areas.